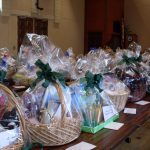 Buy a ticket to Showtime 2020 – March 6, 7 or 8, 2020. Watch for info on this website!
When attending Showtime 2020, buy raffle tickets for big prizes, food and drink, 50-50 tickets, tickets for Opportunity baskets!
Become a sponsor of Showtime and have your business publicized as a supporter of SCWL!
Put an ad in the Showtime Program so 600 attendees can see you support SCWL!
Use escrip at restaurants and stores and choose SCWL as the recipient of your charity – no cost to you!
Sign up at Amazon Smile to make SCWL the recipient of your charity and a portion of each of your purchases goes to SCWL!
Become a member of SCWL and meet new friends while supporting the Health & Wellness program at the Santa Clara Senior Center!
Donate a gift basket or items for a gift basket for Showtime 2020!
Send a tax deductible donation to SCWL, PO Box 3033, Santa Clara CA 95055!
Attend the Santa Clara Art and Wine Festival and purchase glasses and wine or beer – part of each year's proceeds go the Santa Clara Senior Center Health & Wellness Program!